Places : Coonoor , Kothagiri , Hogenakkal.
Dates : 25, 26, 27 Mar 2005
People : Megarajan, sivasu , balasundar , durai , Omni Balaji , Vijayan , Yehiya , Loose Mohan , Sengu
So somehow a discussion of a trip started trickling among mails and I proposed that Coonoor could be a good place as HCL guest house was already there. After some initial crowd pulling the strength of members who were ready to come to the trip hovered around 10 with fears of some members dropping down always lingering there. Durai had booked train tickets for 6 Persons who had given confirmations from Chennai to Coimbatore . We were all set to go by train for our trip .
On the week we were about to start ,Vijayan gave the idea we can always hire a Tempo and travel in it rather by train. So he booked a tempo traveller after some initial fears of backpains and night travel from the members. On the day we were about to start I packed my things and came to Office to start directly from office. But in the hurry burry I forgot my nice little Kodak KB-10 .At evening 8.15 Yehiya came to pick me up and we went to Kodambakkam . In the meantime vijayan had come there with the van . On first sight the van looked fine and this impression didnt change during the trip also . So we started on our trip and we had to pickup everybody else on the way .
Sengu , Balasundar , Durai and Sivasu boarded in Vadapalani with Durai intentionally starting late and making others wait . The person who was irritated most by this was Omni who had been waiting in Kathipura Junction for almost an hour .He was the one who had been asking "Will we go , Would we go , Are all coming , Arent we dropping the tour ? , If he doesnt come , I wont come" and all sorts of questions .
He seemed to be believing that this tour wont happen from the beginning . He simply could not believe that we could go to a tour somehow . Kudos for his belief in his friends.After picking up Omni at Kathipura , we headed straight down south .We had a light supper in the chengelput bypass road . In the meantime one of my other friends , loose , had started from Bangalore to join us at salem . We were supposed to pick him up at salem at 2.00 A.M but we entered salem only around 6.00 .After picking him up we had tea opposite the Vinayaga Missions Hospital in the sangagiri road . About an hour after we entered our college IRTT in Vasavi , to drop the 2 juniors who had boarded our van in Madras .
After taking a photo outside our Final Year hostel and everybody singing their own versions of Nyabagam Varuthe .... we proceeded to our destination , coonoor. We went thru Chithode, Perundurai , Avinashi and Mettupalayam . Upon reaching Mettupalayam , we had our breakfast opposite Black Thunder Theme park. Curiously ,2 persons , sengu and omni decided that they would not eat unless they brush their teeth . 3 1/2 years of dull ordinary life had changed them . But others proceeded unmindful of this. They didnt realise that this was a stupid decision they took. After finishing our breakfast we started climbing the Queen of the Nilgiris. After passing the village burliyar we reached Coonoor. Meanwhile sengu started feeling hungry and was very eager to find a room asap. On the way from Mettupalayam to Coonoor was the Law falls which we saw from the van. When we thought that we can see it and then proceed , omni interrupted and said that we will first take a room , bath and then we will see places . This drived half of us to nuts and we missed seeing it. We cautioned Omni that he is allowed to make mistakes but he should stop at one per day .
Upon reaching Coonoor , we called the YWCA at coonoor and asked for the availability of rooms. I was not aware that YWCA will allow gents also and mentioned that we were 9 gents, but since they didnt care whether we were gents or not , we confirmed a dormitory containing 9 beds. Sivasu , wanted a TV to keep himself updated of the Test match between India and pakistan. When asked about a TV , we got the reply that the Dorm didnt contain a TV .Sivasu was very much disappointed by this .I envisioned a long line of beds in a square room , but the greatest of surprises awaited us when we entered YWCA in upper coonoor. The YWCA building was a British built building of atleast 100 years old and looked like a stately old mansion. It looked obviously out of place for us . After our initial aah-aahs and ooh-oohs .. we were led to the first floor of the building and entered the dorm . The dorm itself looked big with two rows of beds having 5 and 4 beds . Though the light was not enough to fill up the entire room , it was a well maintained one . We congratulated ourselves on finding a good place to stay and the cost at 700 per day for 9 persons being the cheapest added to the effect .After Refreshing ourselves one by one , we proceeded to start our sight seeing . We first decided that we will see all places near Coonoor on the first day .
Let me tell something about the location of Coonoor .Coonoor is a hill station on the way to the much famous OOTY . Coonoor was touted to be a nice little hill station still unspoilt by tourists . After this trip, I would believe that it is true.
The places we had in mind were
1. Sims Park
2. Dolphins Nose
3. Lambs Rock
4. Law falls
5. St. Catherines Waterfalls
6. Elk falls
7. Katteri falls
8. Kodanad Viewpoint
9. Lady Cannings Seat
10. Rangaswamy Pillar and Peak
We proceeeded to Lambs Rock first.
Lambs Rock:
This place is a view point from which you can see the surrounding hills and was named Lambs Rock not because it was shaped like a lamb but bcos the path was laid by a British Officer named Lamb. It gave us a spectacular view of the Bakasuran malai and the plains down the hills.We bought huge amount
of tea of various varieties here . We proceeded next to Dolhins Nose.
Dolphins Nose .
You might say that this place was named so bcos the path to it was laid by a british Officer named Dolphin . But its not so. It was named
so bcos it looks like a dolphin nose . This is also a viewpoint offering a view of the Catherine Falls in Kothagiri .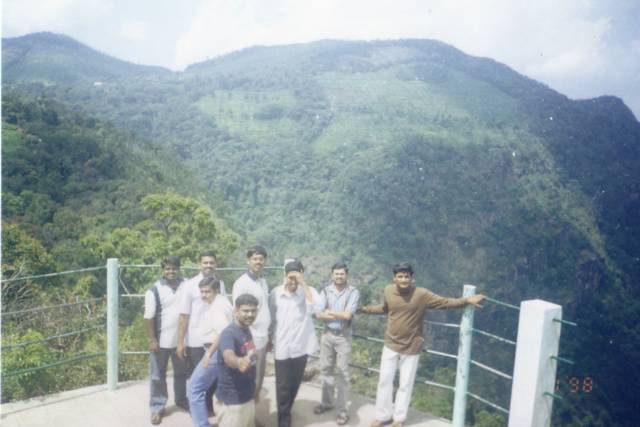 Sims Park .
Sims Park is a natural park containing many varieties of exotic flowers and trees. We saw a tree named Elephant tree and the trunk of the
tree looked like an elephants leg . There was a playground for children , a glass house , and a lake for boating here in this park .While others
were playing , me , omni and durai went for boating . And we really enjoyed the boating .
Day 2 :
On the Second day , we had planned to see the places in and around Kothagiri . This would include
1. Kodanad Viewpoint
2. St. Catherines Waterfalls
3. Elk falls
Wellington :
Wellington was a place which was not initially in our plan. But this came up due to the persistent bothering of Mohanraj. So we finally
went there and what a place it turned out to be. It was an army establishment complete with defence quarters , officers mess , a golf course etc.
There was also the Wellington War Memorial in memory of the persons,graduated from this academy, who died in various wars.
We had a small walk in Wellington and the walk was really a joy.
I had posed for this nice photo in wellington.
The Model Airplane in Wellington
There was also a golf course nearby which had a fantastic layout. It was a golf course which had many layers to it , so that one can put the ball from the topmost layer to the next one down.
Kodanad Viewpoint :
The kodanad viewpoint is in kothagiri inside the Kodanad Tea Estates. This is a really awesome view point offering a good view of the plains below. From here we were able to see the Bhavani sagar Dam and the moyar river flowing thru the mountains.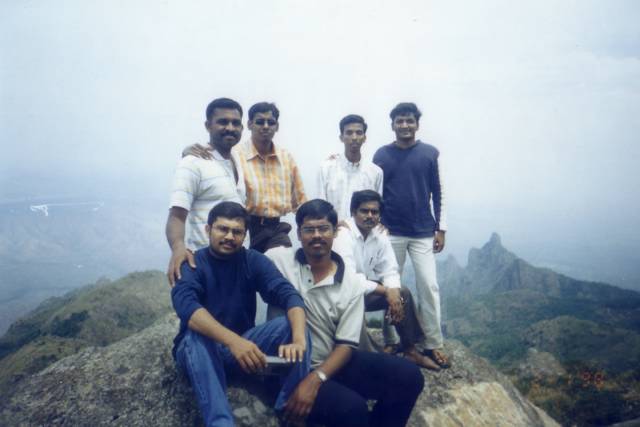 The peak which you see in the right corner of the above photo is Rangaswamy Peak.
The path through the Tea Estates itself was a very enjoyable one. After spending sometime at the viewpoint , we proceeded downhill to Coonoor.
On the way we had sighted yet another Tea Estate , the Alderley Estates.
We wandered in the Alderley Estates enjoying the nicely maintained lawns and oonjals. The estate can be taken for rent for a sum of 3000 Per day .
You can have a look at the imposing view of the Alderley Estates in the below photo.
Then we entered the Brooklands Tea Estates , where we had a brief demo of the process by which Tea was made and how it was classified into the various grades available in the market.
Inside the Tea Estates
On our way to Coonoor we went to the Beulah Farm , a farmhouse selling homemade jams and homemade wine . All of us entered the farm and gave the owner a shock .
All of us got to taste many varieties of homemade jam and homemade wine.
The varieties available in Jams were Strawberry Jam ,Rhubarb Jam , and Marrow .
There was many varieties in wine of which the ones I remember are Tulsi , Plain , Mint , Garlic etc...
Bcos of this we had a new found "kudikaaran" in our team . He even took photo outside the place where he started drinking wine .
The Evening we spent at SIMS Park , and a nice little evening it turned out to be. Some of us were playing with the ball and some of us just looking at the beautiful visitors of Coonoor.
But Yehiya was the one who was doling out punch dialogues by the dozen all with an impeccable timing. One of his punch dialogues I remember now is "(somebody) ..was working as a temporary , awaiting permanency , but EXPERIENCED ." . If someone remembers any of the other dialogues he told , pls add that as a comment.
Finally , after deciding that we have had enough of Coonoor , though I felt that we could have stayed the next day also , we proceeded to Hogenekkal .
Content By : Megarajan
Photos By : Everyone
Cheers
Megarajan