Places : Kalpetta , Mananthavady .
People : Mega , Parames , Saravanan , Vijayan ,Senthil , Mohan .
Wayanad is the northern most region of Kerala and is a great place to do trekking with many number of temples and mountains.I had gone to Wayanad as part of HCL's Annual tour Programme. We went by train from Madras to Quilondi and then from there by bus to Kalpetta via calicut.
Landing in Quilondi Railway Station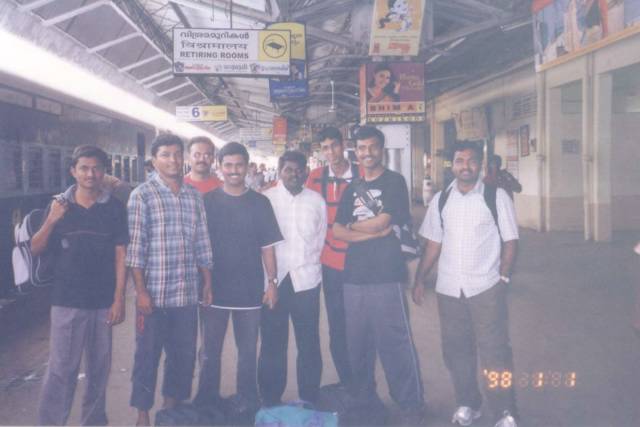 The places we visited in Wayanad.
Chain Tree :
Once upon a time there was a British Engineer who found the way to Wayanad with the help of a Tribal from Wayanad. To take the credit of discovering wayanad ,he killed the tribal who showed him the way. The ghost of the tribal haunted travellers who travelled by the way . After some time the ghost was reportedly Chained by a Priest to a tree . The Chain tree is the place where the ghost was chained to a tree and you can still find the chain tied to the tree there.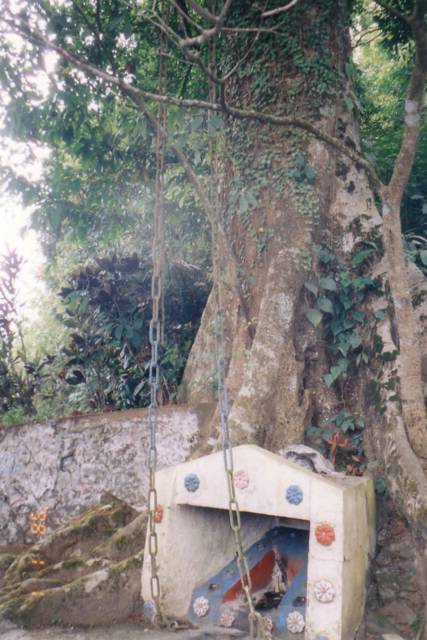 Soochipara Waterfalls :
Soochipara Waterfalls is a nice little waterfalls. It is also known as Sentinal Rock Waterfalls.
After this , we hired our own jeep and went to see all the places. Jeep travel in Kerala is a experience in itself.
Valliyoor Bhagavathi Amman :
Valliyoor Bhagavathi amman temple is one of the most famous amman temple in Kerala and is a very old one. It finds mention in the historic novel ( Cheraman Kadhali ) by Kannadasan.
The Temple :
Me and My Friends in front of the temple
Thrisilaserry Sivan Temple :
Thrisilaserry is home to one of the famous shiva temples in Wayanad.
Thirunelly Vishnu Temple:
Thirunelly is one of the famous vishnu temples in Kerala , with legends being that Parasurama himself built this temple.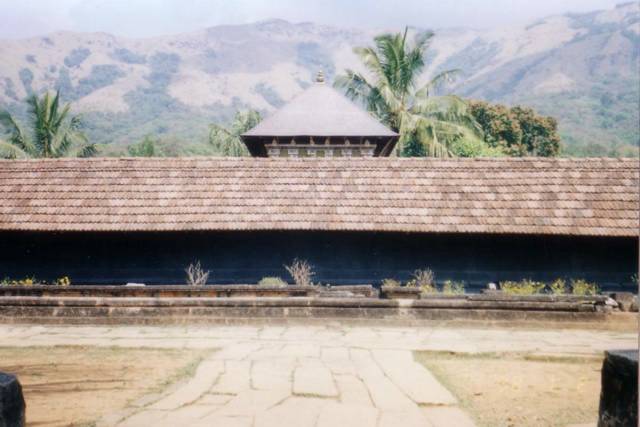 The daily pooja which happens at 12.00 in Thirunelly.
The Nelly Tree in Thirunelly
All templs have a sacred tree associated with them and for this Thirunelly temple it is this Nelly Tree.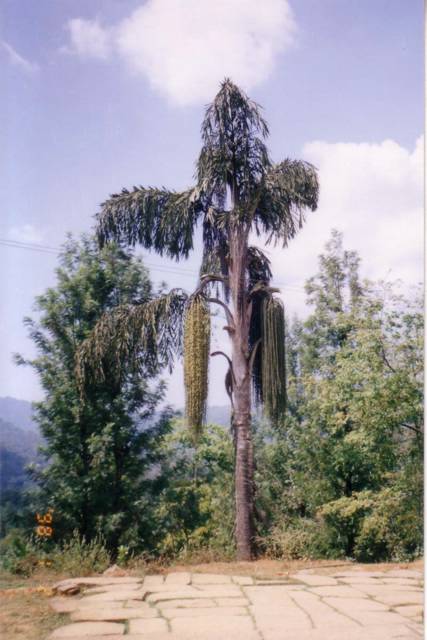 Tholpetty Wildlife Sanctuary :
Tholpetty is a small Wildlife sanctuary situated in Wayanad. We had a nice time travelling through it.
Tree in Tholpetty :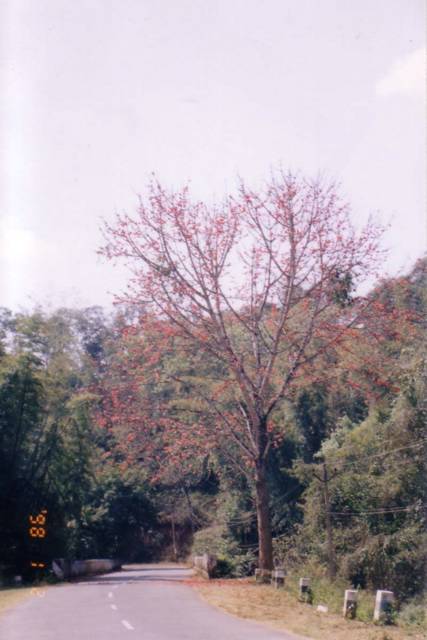 Road thru Tholpetty Wildlife Sancturary
This Photo was taken when we were going in the jeep and after looking at this photo I admire my stable hands.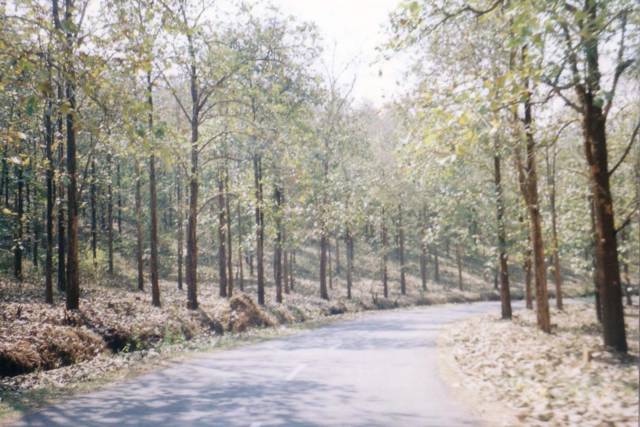 Kuruwadweep Islands :
Kuruwadweep Islands are a set group of small islands formed by the Kabini river. The kuruwadweep though was important from ecological point of view , had nothing much to offer. We took a nice bath there .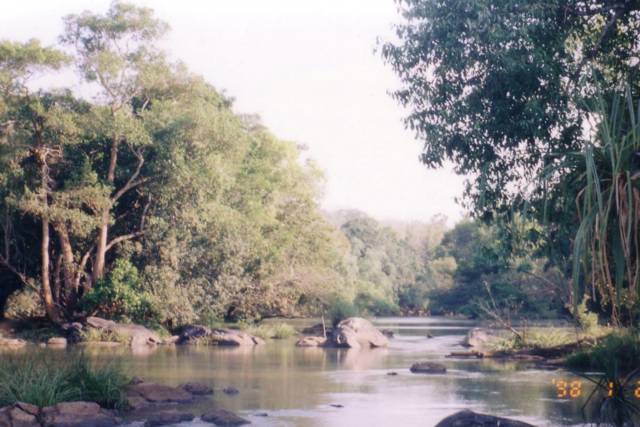 Pazhassi Raja Tomb :
Pazhassi Raja , Lion Of Kerala was a local chieftain , who raised in revolt against the british and was killed fighting them . He was an equivalent of our own "kattabomman". His army wa supposed to consist of people who were trained in Kalari and were invincible by the british for sometime .The British on knowing that the strength of these people lie in kalari training , passed a rule that Kalari was against the government and was forbidden. This was the beginning of the decline of Kalari .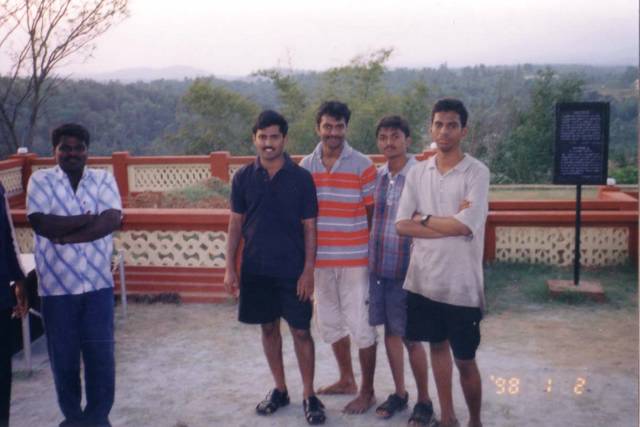 Edakkal Caves:
Edakkal Caves are supposed to be the oldest cave inscriptions found in India. Some of the inscriptions are in Tamil , a fact that every Tamilian can be proud of his language.
The trip to Edakkal Caves proved the most daunting and most tiresome. There was a steep trek of 2KM which can be covered only by walk.
Taking Rest while climbing the Edakkal Caves
The Entrance
Inside Edakkal Caves
Outside Edakkal Caves
At the bottom of Edakkal Caves
That was the end of a nice trip with lots of trekking .We came back to Madras by Train from calicut to our ordinary dull lives.
As a good traveller , I wanted more of Wayanad , but time was less .
Some more Places I wished I were able to see in Wayanad were
1. Glass Temple ( kannadi ambalam ) in Kootumundu. This is a private property and special permission a day before is needed to visit this.
2. Chembra Peak - A nice trek up the hill .
3. Muthunga Wildlife Sanctuary -
Cheers
Megarajan