Plainly Speaking ,
The world can be divided into two sets of people.
Those who have visited the temples in Halebid and Belur and
Those who have not visited it.
Lots have been said about other monuments in India , especially Taj Mahal.
But everything will become false when compared with the temples in Halebid.
To compare , most of what you find in Taj Mahal are engravings , meaning its twodimensional.
But in Halebid and Belur you have a additional dimension .
All sculptures are Three dimensional , meaning that all sculptures , from the smallest one to the biggest one are as perfect in the back side as they are in the front.
If you have never heard of the Hoysalas , it is time that you heard about them.
The Hoysalas were Hindu kings who ruled over parts of karnataka for some centuries .
The Hoysalas were talented enough to grab a place for them in history due to their various contributions to art and architecture .
They perfected a distinct style of temple architecture that is clearly different from anything you would have seen till now.
Their temples had no super structure , means the temple itself was flat on the roof , there are no gopurams.
Most of their temples are star shaped and the entire temple itself was placed on a high surface.
The temples I had gone were
1. Hoysaleswara Temple , Halebeedu
2. Kesave Temple , Halebeedu
3. Jain Basadihalli , Halebeedu
4. Chenna Kesava Swamy Temple , Belur
The entrance to the Old city. Halebeedu means Old city in Kannada .
The Hoysaleswara temple as the name signifies is a temple dedicated to shiva.
Front view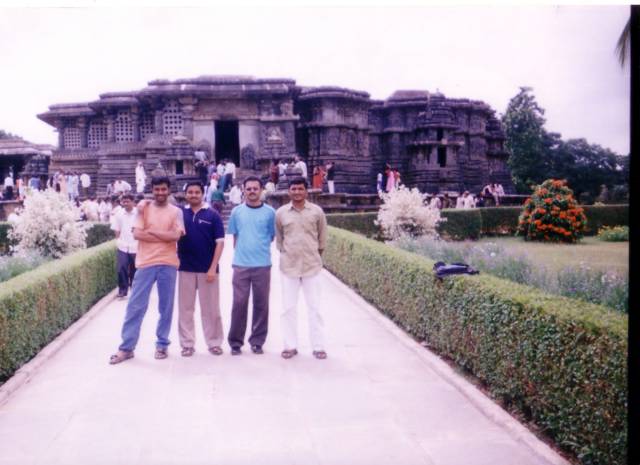 Left Side view
As with all shiva temples , before the deity you have to go thru the vahanam .and it will be Nandi for Shiva.
This temple also has a Nandi statue , to say correctly 3 Nandis,.
We will look at the Nandi statues in this temple .
Nandi -1
This Nandi statue is the most polished Nandi of all. In its good times ,it must have been fit to serve as a mirror.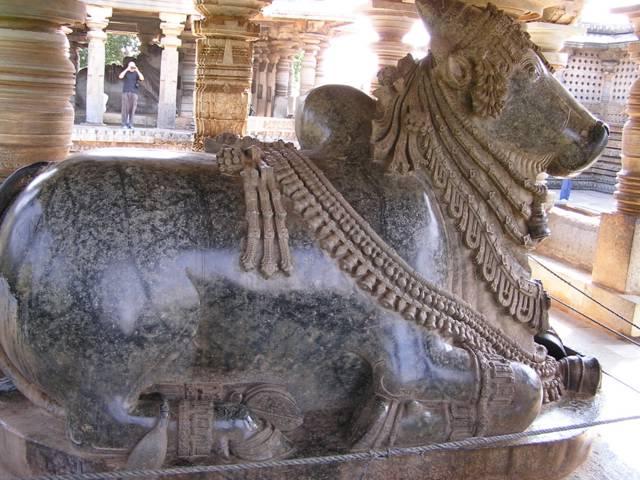 Nandi - 2
Nandi - 3
Dwarpalaka
All Hindu temples , if you have noticed properly , will have dwarapalakas , on either side of the entrance to the sanctum sanctorum or the garba griham.
Hoysalaeswara , Halebeedu
Usually in Hindu temples the deities are not allowed to be photographed , but since this temple is not being worshipped now , we can have a photo of the deity.
Interior
After having a look at the interiors of the temple , we will look at whats on the outside.
Dancing ganesha
Lone Ganesha
Brahma , Shiva , Vishnu , Paarvathi
Shiva Paarvathi
Vishnu , Lakshmi
Shiva inside a Elephants belly
This sculpture depicts shiva as inside the belly of an elephant.
krishna
Narasimha
Lady with the Mirror
Lady with the Drum
The temple had many statues of ladies , apsaras , sundaris , maids , whatever you call them .
And all of them are said to display a different "bhavam" in their face.
Elephant Chariot
Archer
Men fighting an elephant
Crocodile-Elephant
This is a mystical animal with the jaws of a crocodile fitted to the body of an elephant.
Most of the people leave Halebeedu after visiting the Hoysaleswara Temple, but there are more ruins in Halebeedu .
You have to take the road on the left of the temple and go some distance and you will reach a pair of small temples .
Kesava Temple , Halebeedu
Jain Basadihalli , Halebeedu
The Jain Basadihallis were supposed to contain Pillars that were so polished , that they could serve as mirrors.
But now they are damaged due to vagaries of time. But I was able to see a shadow of myself in the pillar.
Belur :
Belur is the home to Chenna Kesava Swamy (vishnu) temple, another fine example of Hoysala Architecture.
The Original temple consisted only of the main temple and the walls surrounging the temple and the gopuram were built later .
The gopurams have been built in the dravidial style of architecture.
Belur Temple Gopuram
The Vahanam for Vishnu would be Garuda .
Chennak Kesava Swamy , Belur
Maid in the Pillar
Base of Temple
As was the norm in those days each empire had a royal emblem and for the hoysalas it was the lion.
Lion
Exterior
Mysore
Mysore was our next stop enroute to Bangalore.
The places we visited in Mysore were
1. Mysore Palace
2. Lalita Mahal Palace
Mysore Palace :
The Mysore palace was at its best when we visited it.It was Dussehra and Dussehra festival was the most celebrated one in Mysore.
The palace was built on a huge piece of land , had lots of rooms filled with treasured items , had a golden throne displayed in it.
But all of these was NOTHING compared to what we had seen in Halebid and Belur.
Places I Missed out on this tour.
1. Sravanabelagola.
2. Somnathpur
3. Chamundeeswari temple.
Cheers
Megarajan