Dates : 25-12-2008 to 2-1-2009
People : Mega, Saravanan, Srini, Dhamu and Vijayraj and G11 batch.
After our successful Nilgris Trek with YHAI, we settled for the Goa Trek to be the next trekking expedition with YHAI.
For the Nilgris trek photos, click below.
YHAI Nilgris Trek - Day 1
YHAI Nilgris Trek - Day 2
YHAI Nilgris Trek - Day 3
YHAI Nilgris Trek - Murugamalai
YHAI Nilgris Trek - Day 4
YHAI Nilgris Trek - Day 5
YHAI Nilgris Trek - Day 6
6 of us registered for the Goa trek, 3 from bangalore and 3 from Chennai.
Out of that 1 dropped out and 5 turned up for the trek. Me and Saravanan started from Chennai and reported on 25th Dec. Srini, Dhamu and Vijayaraj started from Bangalore and had already landed in Goa a day before.
Base Camp:
The YHAI Base camp was a big one with atleast 30 bigsized tents occupying a big ground. This was the control center for the whole of the trek operations.
After finishing up the reporting formalities, which included getting a ID card and getting a tent, we were free for the evening.
For the evening, we planned to go for the river cruise.
Cruise Boats in the river
One of the distinct looking cruise boats
As you can see the boats were already filled with people to the brim and we also joined.
We, the people.
After the boat started cruising, the first program was to give the kids the stage and allow the kids to dance.And what a sight it was.
One of the other programs was a sample of a Konkani Dance.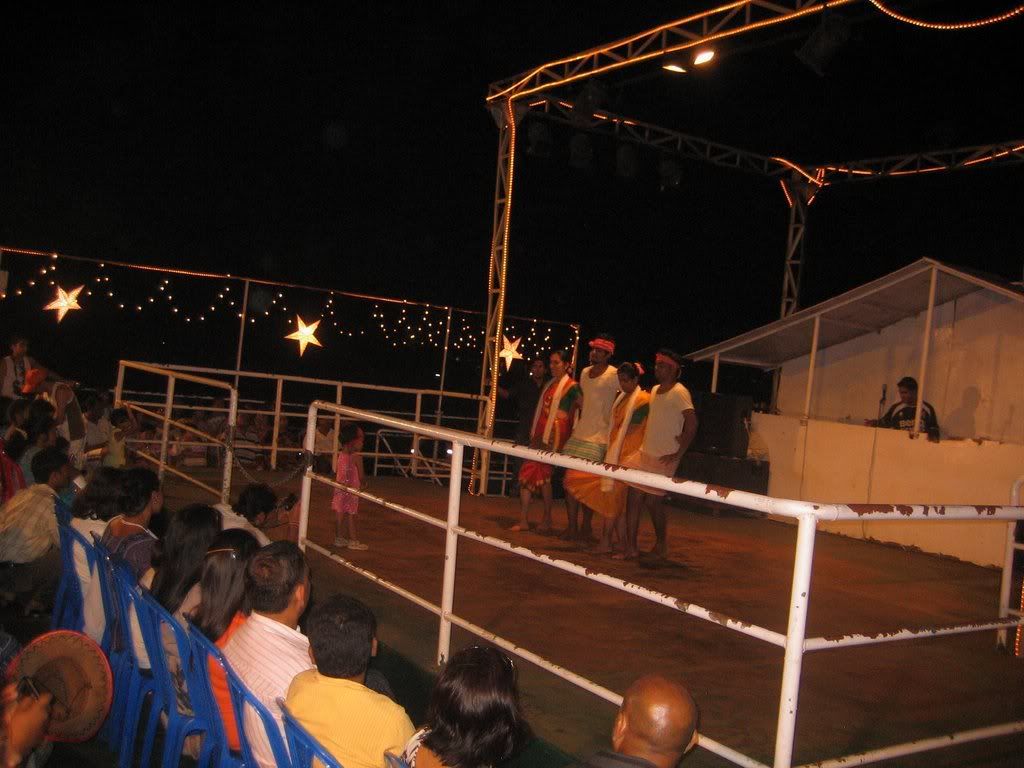 All in all, the river cruise was a pleasant experience with good music and entertainment.
After the cruise, we returned to the basecamp for dinner and we had a great and sumptous dinner waiting for us.